This morning, in Gotham, it wasn't bad guys escaping from Arkham Asylum or riots breaking out that Batgirl, or Cassandra Cain, had to deal with. Nope, this third generation Batgirl had to deal with something that would have made Barbara Gordon shake in her boots. An inter-dimensional wormhole. the Kaleidiscope-like reflection appeared in Gotham Park at the blink of an eye, as if a magician had pulled a rabbit out of his hat. At first Batgirl didn't think twice about it, figuring it was just some smelly egomaniac lizard creature from Mars, or something of the like. Boy, was she wrong.
"Hm," said Cassandra, standing just a few feet away from the wormhole. "Thermal scanners show no sigh of radiation, so definitely not some form of biological warfare..." She puts a gloved finger to her lip, pondering. "And no signs of bad guys, so what is this thing doing out here?" As if on cue, a rustling of leaves behind Cassandra makes her whirl around, arms up and legs spread, her literally killer instincts honed since birth kicking in.
"Show yourself!" she says. "As you wish," comes a naturally seductive whisper from behind. Cassandra whirls around, but too late. Her mystery opponent sends a right fist swinging into her cheek, sending her tumbling down on the grass. Cassandra immediately jumps back up, already in fighting stance. She makes sure to keep a distance from her unknown enemy, evaluating.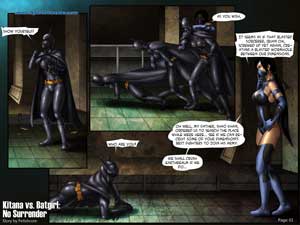 Her opponent is a scantily clad woman, dressed in blue and black clothing. She wore blue armor plating from the top of her shoes to barely above her knees, blue vambraces on her forearms, a long, flowing blue loin cloth, her mouth covered with blue cloth, her abdomen was on full display, lean, with very impressive, hard muscle, also on her arms and legs, and possibly most impressive of all, a set of D-cup breasts jutting out from her chest, barely supported by a tiny blue top split down the middle, her cleavage standing at attention. Cassandra looked down at her own costume, her entire body, even her mouth covered in black. She wondered just how this woman could fight with such little protection. She was about to find out.
"Who are you?" asks Cassandra. The woman chuckles, her posture relaxed, as if talking to an old friend. "It seems as if that blasted sorcerer, Quan Chi, screwed up yet again, creating a blasted wormhole between our dimensions." She shakes her head, her black hair tied back in a ponytail, whipping around freely. "Oh well, my father, Shao Khan, ordered us to search the place while were here... see if we can recruit some of your dimension's best fighters to join his army." She smirks, "We shall crush Earthrealm if we do..."
Cassandra was obviously lost, not understanding a single thing the woman was talking about. Sorcery? Shao Khan? Earthrealm? "Look," she says, getting straight to the point. "I don't know who you are, or what your blabbering on about, but if you truly are from a different dimension, I suggest you leave, right now. Earth has no place in your war."
The woman just laughs, her breasts bouncing easily. "You think you can deny the mighty Emperor Shao Khan? Your fate has already been decided, girl! We are taking over this world." With that, the woman gets into fighting position.
Cassandra smirks. "About time," she says. "I was getting bored! But I'll have you know, I am one of the worlds greatest martial artists, you won't win." To her astonishment, the other woman just laughs. "Yes, and I am Kitana, daughter of Shao Khan, I could crush you as easy as crushing a bug."
Not allowing her opponent a chance to respond, she whips out a Japanese fan, except the metal holding the fan together were sharp razor blades. She hurls it at Cassandra who throws a batarang. The two projectiles collide in mid-air, sending sparks flying. The sound of steel on steel was like a bell ringing on the side of a boxing ring, sending both girls running towards each others.
Cassandra sends a right punch flying towards Kitana's face, but she easily deflects it, sending a left front kick up at Cassandra's stomach, but she deflects that as well, grabbing Kitana's leg. Kitana moves forward, pressing herself together with Cassandra, their breasts smothering together. She than brings her hands up, smacking Cassandra's ears with them. "Ugh!" she shouts, shocked. Cassandra jumps backwards, her head ringing, blinded and deaf. In her moment of weakness, Kitana rushes forward, sending a right snapkick up into her opponents kidney eliciting a soft "Oomph!" Thanks to her inhuman stamina, Cassandra parrys Kitana's next kick, grabbing her leg with both hands and throwing her opponent over her shoulder. Kitana avoids the fall by doing a handstand, then neatly gets back on her feet.
The two women start circling each other, weary of the other. Lightning crackles overhead, and rain soon starts pouring down, soaking the two femm fatales who still haven't made a move. Finally, with loud warcries, they rush at each other again, both girl sending and receiving kicks and punchs, neither one able to get the upperhand. Neither one tiring.
Eventually Cassandra, infuriated by the slow progress, sends a viscious left uppercut into Kitana's stomach. "Hoof!" cries her opponent, doubling over, the breath knocked right out of her. Cassandra follows up with a front kick, connecting with Kitana's throat with a loud crack. She flies backward, landing hard on her back. She had put all of her might into that kick, and knew that there was no way her rival could have survived the bone-shattering kick. Checking to confirm Kitana stopped breathing, she brings a hand up to her commlink built into her cowl. "Batman, we have a situation, round up-" Before she could finish, she feels a powerful sting at the back of her head, sending fireworks dancing in front of her eyes. She collapses to the floor, unconscious.
Kitana drags the costumed heroine away...
To be continued.