Channi
(Click here to read her Bio)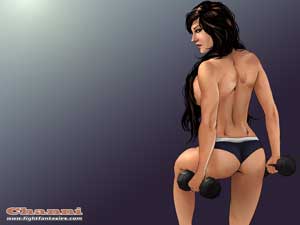 Juicee
Referee
Background
They will fight in a Ring
(Please draw Channi more busty and muscular)
Fight
Panel 1- Channi checks Juicee's muscle power
http://static.brazzers.com/scenes/5643/ ... img/07.jpg
(Channi on left and Juicee on right, referee in center)
Panel 2 - Channi destroys Juicee
http://pre06.deviantart.net/315c/th/pre ... 6muxmd.png
(Channi on top Juicee at bottom)
Panel 3 -Channi kicks referee because referee shouts at Channi for violating rules and tries to help Juicee.
http://pre15.deviantart.net/11f3/th/pre ... 9vv5eq.png
(Channi on right, referee on left)
Panel 4 - Channi fucks both referee and juicee with her strapon at same time.
http://cdnp.kink.com/imagedb/27795/i/h/830/8.jpg
(Channi on top, Juicee in middle, referee at bottom)
Wordings
Panel 1
Referee - Juicee, Channi is a wild, savage girl. She grew up in forests wild animals like Lion, Elephant, Bull and she also kills and eats them. Look at her heavy and muscular body, do you really want to fight with her?
Juicee - Yes Ref! I want to fight with this nude girl.
Channi - Huh! tiny body
Panel 2
Juicee - Aaaaaaaaahhhhhhhhh my pussy!
Channi - I will kill you and then I will eat your flesh. Hahahahaha.
Panel 3
Referee - Channi!!! you can't do this.
Channi - Stay away you bitch!
Juicee - Please don't kill me. I can do anything for you but please don't kill me.
Panel 4
Juicee - OHHHHHHHH! YES! FUCK ME! but don't kill me. Make me cum but don't kill me. Ohhhhh yes!
Referee - OHHHHH! why are you fucking me?
Channi - Because I am very horny bitch.